About Mark
Mark's lifelong career as a maker began with an early interest in vernacular woodwork; the boats, buildings and furniture, of England and Scandinavia. Whilst studying for his degree in furniture design and production at Leicester Polytechnic, he was further inspired by the Arts and Crafts movement and the design and spirituality of the Shakers.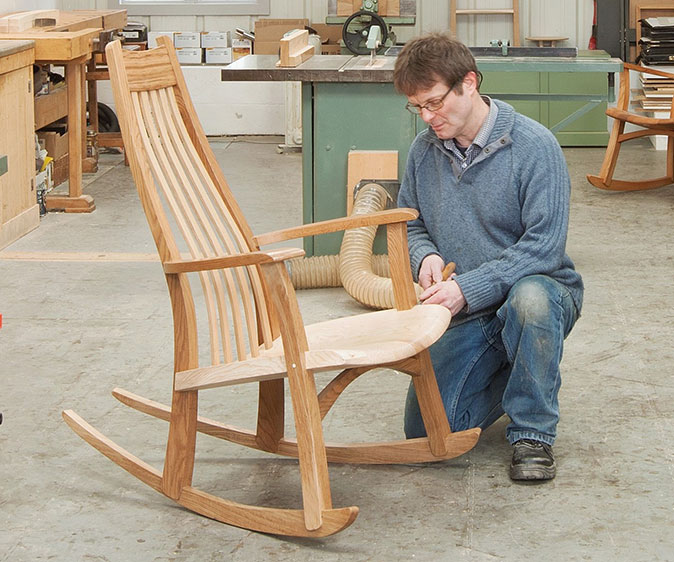 Exploring this tradition has led to a distinctive and recognisable voice in Mark's design and making, developing pieces with a timeless quality that will improve with age and use over several generations. This, together with sustainably sourced temperate solid hardwoods and low energy consumption in the making process, is a response to longstanding environmental concerns.
His work has been exhibited widely including at The Cheltenham Celebration of Craft and Design, Art in Action, Waterperry, and The Society of Designer Craftsmen Annual exhibitions at The Mall Galleries and Bankside Gallery, London. Mark's work has been commissioned for private homes, public spaces, and selected galleries.
Mark has written many articles for furniture making magazines. He was a co-author of The Hamlyn Book of Woodworking 1997 and the author of Furniture Making, Projects and Plans, Guild of Master Craftsmen Publications 2008. He has also been involved with education and he has taught in NHS and local authority therapeutic centres. He was a visiting lecturer at The Building Crafts College, London for several years and was course leader at The Boat Building Academy School of Furniture in Lyme-Regis from 2018-2021.
Now back in his Hampshire studio, Mark is focussing on chair making but will accept commissions for freestanding bespoke furniture. Work is available direct from the studio, craft galleries and occasional exhibitions details of which will be e-mailed on request.
Mark is a member of The Society of Designer Craftsmen and The Hampshire and Berkshire Guild of Craftsmen.
All product photography by D M S Photographic