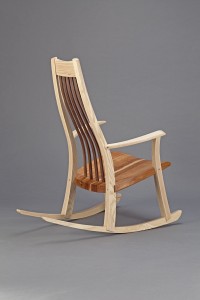 An exciting new project is a video of the rocking chair. This is currently being edited and will hopefully be live by Easter. The film features the latest version of this design.
A local video company is doing this and we had a great morning shooting two days ago in the barn conversion home of a friend just down the lane.
The weather was lovely and a break in the rain enabled us to film in bright natural light.  I am also planning a separate Rocking Chair page for the website when it is updated in March. Work continues to be very busy and I hope to feature some of the new projects soon.