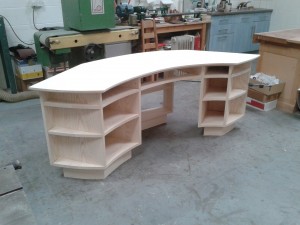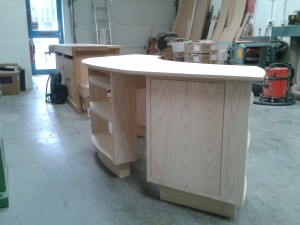 This is an unusual commission for an asymetrical corner desk. While sitting in a corner, it also works in an island setting and has a small bookcase on the 'back'. This is accessed from the drawer, 'front', side by two veneered doors.
The construction is in solid Ash including the back panels and the drawer fronts will be in Oak. These are laminated from 3mm veneers into curves that follow the line of the cabinet fronts. The veneers were cut in the workshop and pressed around moulds until the glue had set. When released, the moulding retains it's shape.
The drawer making will present a challenge which I am looking forward to . The job is due to be completed during July when it will feature as a case study.