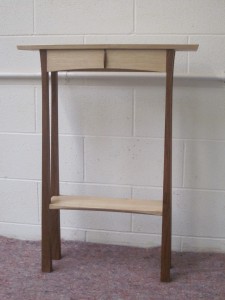 This is a small commission I gained from Art in Action this year. The show was very soggy to start with on account of excessive rainfall in the late spring but gradually dried out during the weekend.
These little side tables are always popular and it is not unusual to pick up orders based on them.
This one is in a rich brown oak for the legs and handles and sweet chestnut for the rest. The front is a flap revealing a small storage space. Usually placed in hallways, they make a delicate but unobtrusive feature and a useful place to store keys, phones, I pods and other bits and pieces.
I have made bigger versions of this design as desks and console tables with two or three drawers 'Tables' section of the main website.
I usually have two or three of these for sale but they can always be made to measure and a variety of woods can be chosen.