Another project in process is a dining suite in light and brown oak. It has six chairs and a static table 2150mm x 1100mm which has semi circular ends. There is an inlay around the edge of the table complimenting the brown oak of the chair seats and backs. This is due for delivery before Easter and is nicely on schedule. I have a three day teaching slot on batch chair making in London next week at the Building Crafts College which is based around this design so it is timely as I will have a set of chairs under construction to show the students.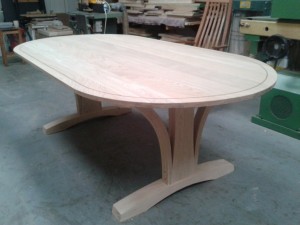 The table frame is constructed with laminated components which are glued around a former using tapered veneers to create a very interesting shape.
The picture shows the table assembed but not yet glued together or finished. I use a combination of natural oil and Polyurathene varnish to create a tough and durable finish.